World Ocean Day is a day set aside by the UN to celebrate and protect the ocean. People and groups worldwide use this day to enjoy, learn about, and help the sea. Local, regional, and state groups will work together to organize fun events to help people understand how people are connected to the ocean.
Join Artist Boat on June 10, 2023, to celebrate World Ocean Day at East Beach through hands-on activities, talks, displays, entertainment, and lessons.
Pre-Festival Events
Leading up to the festival at East Beach, two events are scheduled:
June 8th – 8:30 pmJune 8th – 8:30 pm
Bring your lawn chairs and come watch "Seadrift" for free under the stars. In 1979, a Vietnamese refugee in Seadrift, Texas, kills a white fisherman at the town docks. What started out as a disagreement over fishing area turns violent and sets off a wave of violence against Vietnam War refugees along the Gulf Coast. Boats are burned, the KKK is sent to scare people, and other bad things happen. Seadrift is a fascinating deep dive into the event and the unexpected effects that are still being felt.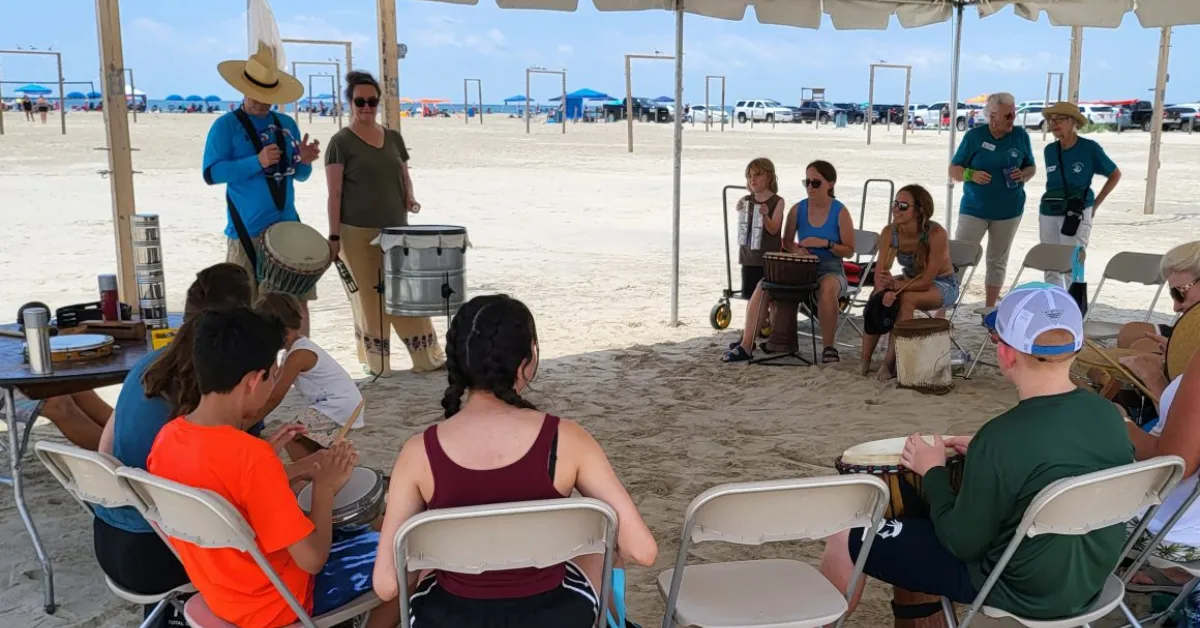 "Cast Away: Poems of Our Times," Poetry Reading y Naomi Shihab Nye
June 9th – 6:30 pm
The Proletariat Gallery & Public House
Naomi Shihab Nye is a well-known author and the Young People's author Laureate. In this collection of more than eighty original, never-before-published poems, she shines a light on the things we throw away, from plastic water bottles to less fortunate people. "Cast Away" is a book of poems for people of all ages that is often sad, sometimes funny, and always thought-provoking. Naomi will be reading her poetry, and you can stay to meet her and get her book signed.
If this interests you, click the link provided below to learn more:
Festival Workshops, June 10 at East Beach
Screen Printing
Participants will learn about a printing method that visual artists worldwide use. The printing method lets students make multiple copies of original art quickly and easily.
Times: 11:00 am, 12:15 pm, 1:30 pm, 2:45 pm
Poetry Writing
Naomi Shihab Nye, the author of "Cast Away: Poems of Our Time" and a well-known poet, will teach you how to write poems. With her help, you'll soon be able to write your poetry.
Times: 11:00 am, 1:30 pm
I Smell Something Fishy
Build your fish by hand out of clay to see how they eat and learn how they do it. Our Eco-Art Educators will help you get the most out of this workshop using art and science.
Times: 11:00 am, 1:30 pm
Watercolor Painting
Learn how to use the plein air method to paint watercolors outside. Participants will learn basic watercolor skills from a local artist while making their paintings of animals living in Galveston.
Times: 12:15 pm, 2:45 pm
Drum Circle
Join a group of people playing drums on the beach. Ilya Janos Kolozs, the leader and host, will help you learn how to play the drum or another musical instrument.
Times: 12:15 pm, 2:45 pm
Bucket Brigade
Artist Boat's Bucket Brigade is an educational Beach tour that shows you the animals and other things that make Galveston beaches unique. With hands-on games and topics like turbid water, marine trash, Sargassum landings, and more, you can learn all about what makes our coast unique.
Times: 11:00 am, 12:15 pm, 1:30 pm, 2:45 pm
Stay tuned to read more exciting news on our website, kerrvillebreakingnews.com.