Marathon comes after Shell, then Valero. During the past three weeks, major fires have occurred at these corporations' chemical and oil refineries in East Texas, resulting in one fatality and more than a dozen injuries.
The fires in Deer Park, Galveston Bay, and Corpus Christi come after many explosions, fires, and hazardous discharges in areas with a high chemical and oil refining industry concentration, frequently not far from residential areas. Others are concerned about how regularly the instances are happening, even though some locals have gotten accustomed to them.
"I have grown up here and watched neighborhoods near the refineries become too toxic to live in and people forced to leave their homes due to the toxicity," Kristina Land, a resident of Corpus Christi, told The Washington Post.
Firefighters were called to the Corpus Christi Valero West Refinery on Wednesday after a fire there sent smoke columns into the sky. The fire's origin remains a mystery.
Land, 45, noticed the dark smoke on the horizon as she was in her house 20 miles from the refinery. She needed to check social media to learn what was going on.
She accuses municipal leaders of failing to promote greater openness.
"Our local government doesn't ever want us to know how bad [the fires] really are, so we never truly know," Land said. "They just sweep everything under the rug and never talk about it again."
The Texas Commission on Environmental Quality, which oversees refineries in the Lone Star State, released a statement but did not make any of its officials available for an interview.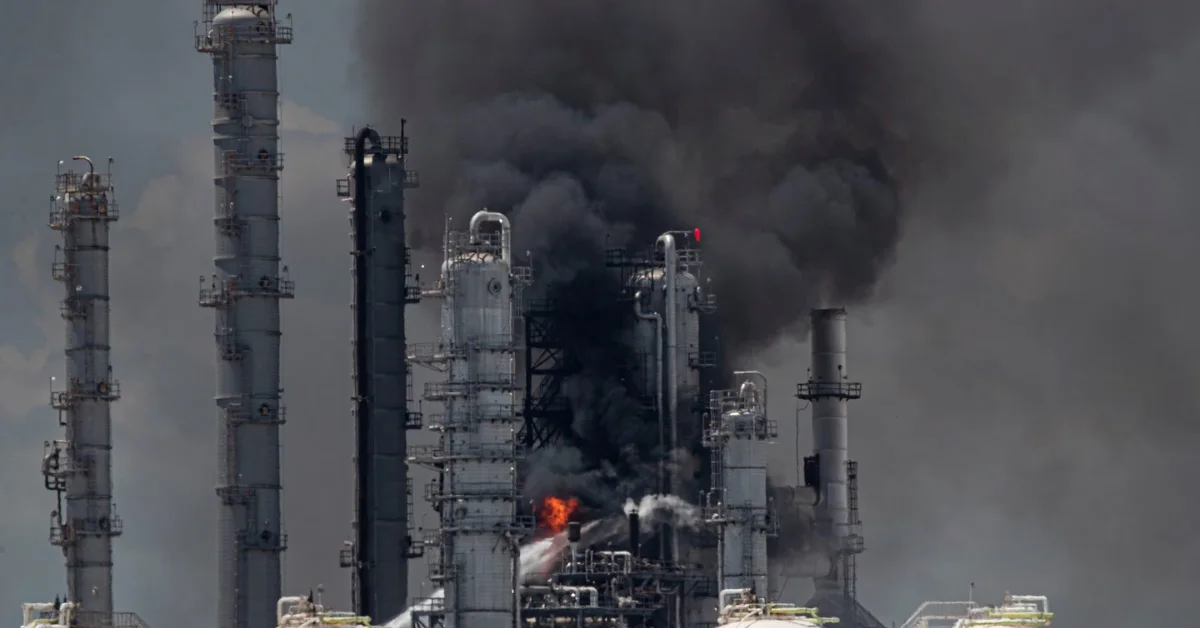 The three most recent fires don't seem to be connected, said Victoria Cann, a TCEQ media expert, "but investigations are underway into the cause, response, and clean-up actions associated with each incident."
According to her, the organization replied to each of them by sending out personnel equipped with monitoring tools as necessary and has "conducted surveillance to assess potential impacts to the local community."
Two weeks ago, the first of the May refinery fires occurred. At Shell's Deer Park chemicals factory in Deer Park, on May 5, heavy gas oil, gasoline, and light gas oil caught fire, resulting in 9 employees being hospitalized. The fire, which broke out just outside of Houston, sent up smoke that could be seen for miles.
After being rekindled several times, the fire that started at 2:59 p.m. raged for days before it was finally put out nearly three days later.
Less than 19 hours after the TCEQ held a hearing to expand the Intercontinental Terminal Plant, a plant close to Shell that in 2019 covered the area in high amounts of benzene, a chemical linked to cancer, emergency personnel rushed to the fire. Environmentalists claim that the oil business has minimal fear of regulatory fines, which is why accidents continue to occur.
"Without a change from industry . . . communities are going to continue to feel the effects of these chemicals being spewed out by these facilities," said Cassandra Casados, the communications coordinator at Air Alliance Houston.
A fresh plant fire broke out in Texas City, a little under 40 miles distant, a week after Shell's fire was put out. Marathon Petroleum in Galveston acknowledged that the incident resulted in one employee's de@th and two others' hospitalization. According to city officials, emergency personnel put out the fire, which was started by a failing pump seal, in less than four hours.
This is Marathon's Galveston Bay refinery's second tragic event of the year. A contract worker was electrocuted at the refinery and killed there in March.
Check the archived news down below for more information:
For all three locations, continual air monitoring is being done at the state and facility levels to assess the risks of exposure to dangerous chemical concentrations. According to officials at the refineries and in adjacent villages, the fires are not a reason for alarm. Following the event, Shell Deer Park posted that the neighborhood was not threatened.
Here is a tweet about Too toxic': Refinery fires leave East Texas residents reeling. You can see below:
'Too toxic': Refinery fires leave East Texas residents reeling https://t.co/EuV7W9DbyT

— NewMexican, Ex-Texan (@OGrady_Texas) May 20, 2023
Following the de@dly fire, Texas City Emergency Management declared that there was no need for a shelter to be set up and that there was no danger to the locals. According to a news statement from the city of Corpus Christi, Valero's west refinery was not caused for "community action."
The Environmental Integrity Project, a D.C.-based watchdog organization, has been keeping an eye on refinery fires and pollution in East Texas and abroad for several years. According to Eric Schaeffer, the monitoring group's director and a former employee of the Environmental Protection Agency, local authorities too frequently downplay the significance of these accidents and issue "all is well" declarations.
According to Schaeffer, black plume smoke is typically a sign that fine particulate matter, which is too tiny to detect normally, is hanging in the air. The toxins released by burning refineries don't stay on the site; they also spread into nearby neighborhoods.
"You're going to have a lot of pollutants released," Schaeffer said of these incidents. "That's probably the biggest concern for the residents."
If you like what we are doing and want to show your support, you must follow us on Twitter.