Droughts are common in Texas, and some parts of the Lone Star State are more susceptible than others. The latest drought conditions in Texas, as reported by the National Oceanic and Atmospheric Administration (NOAA), are available here.
Each week on Thursday, the United States Drought Monitor (USDM) is updated with the latest information on the prevalence and severity of drought across the country. The drought conditions in Texas are displayed on a 5-level scale, from Abnormally Dry (D0) to Exceptional Drought (ED4) (D4).
According to Mike LaPoint, the chief meteorologist at FOX 44, the drought in Texas has persisted since at least September of 2021. "The worst of the drought is just west of San Antonio," LaPoint said of the area west of the state capital. Gillespie County, Blanco County, Hays County, Kerr County, all of Kendall County, Comal County, Bandera County, Medina County, and Bexar County are among the hardest-hit counties in the area currently.
Other news related to texas:
Dallam County, Hartley County, Sherman County, and Hansford County are some of the hardest-hit areas in the Texas Panhandle. Drought conditions have greatly improved in a number of areas across Texas. Since last year, "the drought has improved along I-35 and east, as well as in the Brazos Valley," LaPoint said.
In addition to the majority of East Texas east of I-35, most of the eastern part of the state has also seen significant improvement. El Paso County, Hudspeth County, and Culberson County, all in western Texas, are the same.
A video on Twitter on August 28, 2022, was posted about the effect of droughts on animals in Texas. You can see the tweet below.
Due to severe droughts in Texas, farmers are being forced to choose between raising cows or sending them to be slaughtered pic.twitter.com/2kAayHLfww

— NowThis (@nowthisnews) August 28, 2022
The weather in the central Pacific Ocean, which determines whether we are in an El Nio or La Nia climate pattern, as well as a few other factors, played a significant role in the dry conditions. El Nio occurs when the surface water temperature of the equatorial Pacific Ocean, between Mexico and South America, rises above its normal range. More precipitation in Texas and the southeastern United States may be sparked by this.
In contrast, La Nia describes a climate pattern characterized by unusually cool conditions. According to LaPoint, this will cause rain and cooler temperatures to be displaced north of Texas, leading to hotter and drier conditions in the south. The current situation looks like this.
According to LaPoint, we have been hit by La Nia for the past three consecutive winters. The dry conditions in Texas have worsened because they have persisted through three winters. But there is good news: La Nia is weakening and is likely to end this spring. "I don't know exactly how much rain is needed to end the drought, but a very wet spring may do it," LaPoint said.
Each color on the above map of the Texas drought represents a different severity of the drought and, consequently, a unique set of precautions and risks associated with its use. D0 means abnormally dry conditions. Now is a good time to start supplement-feeding livestock, producers. Planting is put off, forage germination is slowed, and fewer bales of hay are cut. The likelihood of grass fires also rises.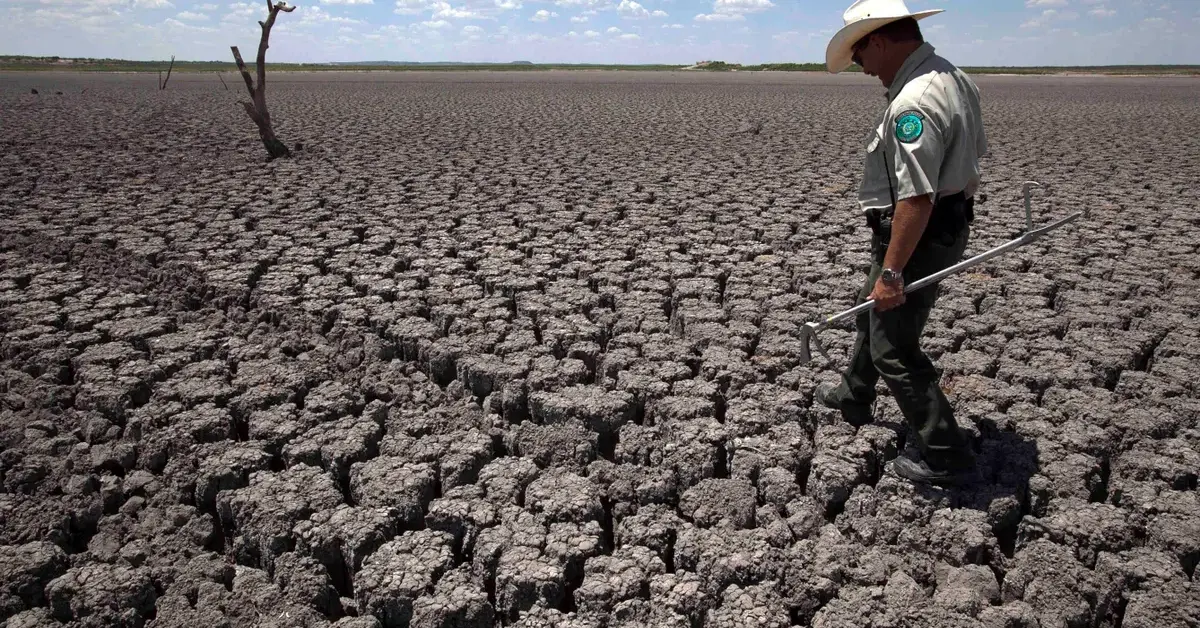 Moderate drought, or D1, is the second-lowest drought severity classification. Cattle sales start early and dryland crops fail. Also, the number of times that wildfires occur is bound to rise. D2 means "Severe Drought." There is a serious lack of good pasture. Rough soil makes it more difficult to plant seeds, leading to fewer harvests. There is a high risk of wildfires, so burn bans have been put in place.
You might also be interested in:
A "D3" drought is considered "Extreme." When this occurs, the soil becomes extremely dry and shows signs of cracking. Sand and dust storms are common. The germination rates of row and forage crops drop, and the yields of irrigated crops drop significantly while those of dryland crops drop by a much larger amount. The need for supplementary livestock feed, nutrients, protein, and water is rising. Similarly, herds are also put up for auction.
A D4 drought is considered exceptional. There has been an unprecedented and pervasive crop failure. The rangelands have died and farmers are not sowing new ones. Businesses in the seafood, logging, tourism, and farming industries all report major losses. Fire hazards are taken very seriously, prompting strict regulations on the use of fireworks.
If you liked reading this article then we suggest you bookmark our website kerrvillebreackingnews.com. We post informative news regularly