Later this year, Kylie Beaton was eager to give birth to her second child. She must now decide whether to continue an unviable pregnancy due to Texas' stringent abortion ban. Beaton's baby has a severe, uncommon condition that affects its brain development. Still, she cannot access abortion care in her home state.
"To have a woman go through so much torture along the way that's going to stay with them forever," Beaton told ABC News. "Whatever the case may be, you have to look at things from a different perspective."
Texas has several abortion bans prohibiting nearly all abortions except in cases of life or serious bodily harm to the mother. Abortions are punishable by law.
Beaton, who has a 4-year-old daughter with Seth, said the couple had been trying to get pregnant when they conceived the unviable pregnancy. In June 2021, COVID pneumonia hospitalized Seth. Beaton said they immediately tried to have a child after his release six months later. Beaton's polycystic ovary syndrome can make pregnancy problematic, so she was thrilled when they succeeded.
"I was really excited when we found that it was a boy, but that was short-lived," Seth Beaton told ABC News. "Right now, I'm just terrified for my wife. She's the strongest person I know and she's just helpless right now. And it's not fair for her and other women. And we have a daughter, I couldn't imagine my daughter ever having to go through this."
At her 20-week ultrasound appointment, Beaton's doctor discovered the fetus had a rare, severe anomaly called alobar holoprosencephaly, in which the brain's significant structures remain fused in the middle.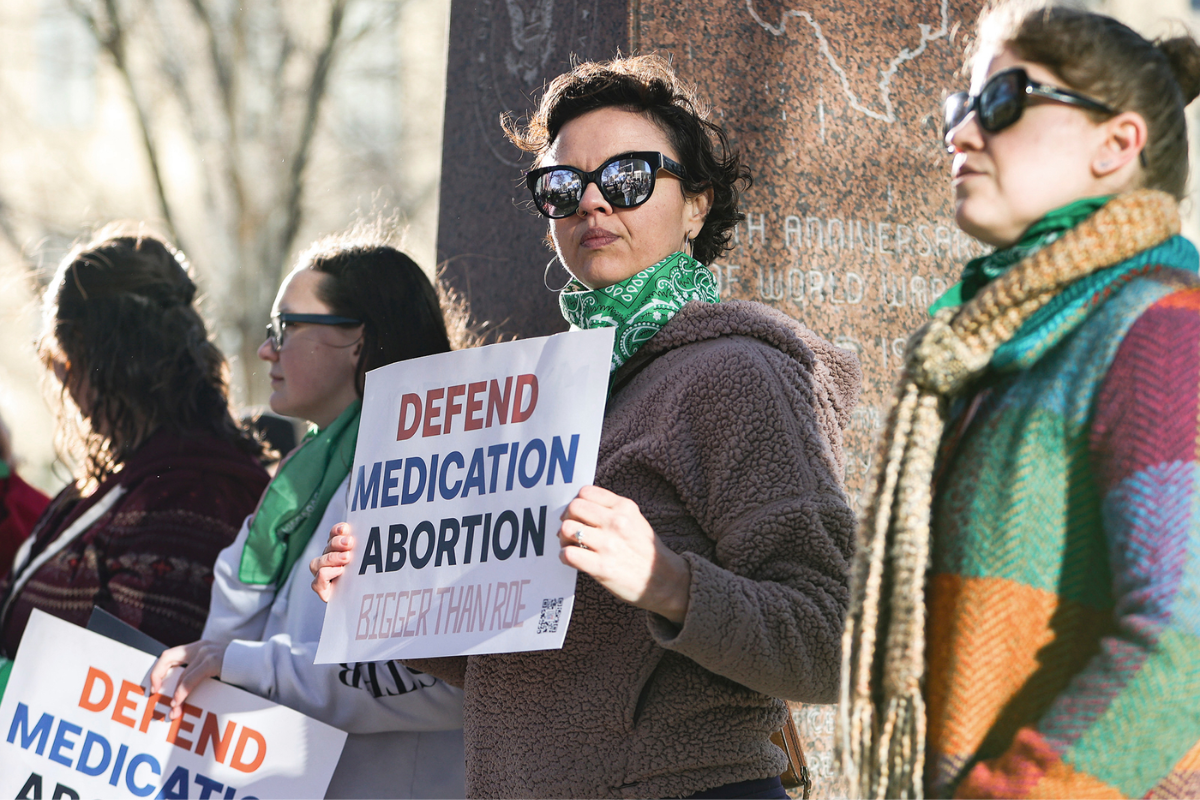 Dr. Katie McHugh, an Indiana OB-GYN and abortion provider, told ABC News that the brain splitting into two hemispheres is a "critical stage in the development" that can affect the nose, mouth, and throat. McHugh said the fetus' life and death could be harrowing.
The Cleveland Clinic reports 1 in 250 fetuses and 1 in 16,000 live births with the anomaly. Dr. Carrie Rouse, an OB-GYN and maternal-fetal medicine specialist at Indiana University Health, has seen five cases in seven years. Beaton's 28-week ultrasound shows her baby's severe anomaly.
"The inside appears very empty," said Rouse, who is not treating Beaton, but looked at her ultrasound. "The normal brain structures that we would see, that should have formed and then separated in the midline, are not there where they normally would be. This is a very concerning ultrasound."
Beaton said her doctors told her that the baby could survive for two weeks if the pregnancy ended in a live birth. Rouse agreed, citing a lack of brain tissue development and head fluid.
"This anomaly is typically lethal for most infants within days to weeks," Rouse said. "Outliers are only able to survive with significant amount of invasive procedures and interventions."
Rouse says babies with this condition never reach developmental milestones, don't smile, can't see, and have severe seizures and hormonal abnormalities. Rouse said babies with this condition often need mechanical ventilation, a life support machine, multiple medications, and repeated lab draws to survive. Few outliers stay a year. "Honored and protected in law no matter how long or short their lives may be," Texas Right to Life stated earlier this month.
Governor Greg Abbott, Attorney General Ken Paxton, and state Sen. Bryan Hughes, who wrote one of Texas' abortion bans, did not immediately respond to ABC News' request for comment on Beaton's situation.
Beaton wanted a vaginal delivery because a cesarean scar would remind her of her loss. The Center for Advanced Reproductive Medicine and Fertility recommends waiting 12 to 18 months before trying to get pregnant again after a C-section to allow the uterus to heal.
"With this condition, in particular, because the head, the fetal head, develops at a different rate, often because of fluid collections, most of the time vaginal delivery is not an option. And so cesarean delivery is required," McHugh said. "And this is going to be major abdominal surgery, with risks associated with it — for a baby that has maybe no chance of a normal life or potentially of survival at all, depending on the severity."
Beaton said she scheduled a February abortion in New Mexico after being unable to get care in Texas. She said she was told her baby's head was too big at an ultrasound days before her appointment, and she couldn't get the procedure. She said the facility's abortion cutoff is 23 weeks and six days, and the fetus's head was already measuring over 23 weeks.
Kylie Beaton said, "From there, we were disappointed." Beaton said she was referred to a Colorado clinic that provides later-term abortion care, but the facility told them it would cost $10,000 to $15,000, which was unaffordable. Kylie Beaton said the same procedure costs $3,500 in New Mexico. Both estimates exclude travel and lodging costs.
She said the fetus's fluid-filled head has grown since then. At her 28-week appointment on Monday, the ultrasound showed the fetus's head size was comparable to a full-term pregnancy at 39 weeks.
"On that ultrasound, the head is measuring significantly larger than it should be. It's measuring about 10 weeks further along than she actually is, which is very concerning," Rouse, the Indiana Health System OB-GYN, said.
As Beaton's pregnancy progresses, Rouse said her C-section might become riskier.
You worry about the ongoing growth of the fetal head causing more complications at the time of delivery, like bleeding, needing a blood transfusion, needing a more extensive incision on her abdomen to remove the infant, or needing a more extensive and different incision on the uterus to remove the infant," Rouse said. "Stretching the uterus can cause uterine rupture. These things would worry me.
"For a condition for which we expect the baby to pass away soon after birth, that baby is going to pass away because of the alobar holoprosencephaly, whether born at 39 weeks or earlier," Rouse added.
Since the baby's head was full term, Beaton's Texas doctors contacted other doctors in the state to see if they could induce her labor. Beaton said doctors decided not to induce labor due to the baby's head size because her health was still okay.
Also, check this news:
Kylie Beaton said the state would likely press charges if they found out. Any medical professional who performs, induces, or attempts an abortion in Texas commits a second-degree felony.
"My specialist and my OB both had said I had to go essentially full term to at least 37 weeks unless something happens to either the baby or I, then they could induce," Kylie Beaton said.
The law has left the couple feeling helpless and frustrated over being unable to make a humane decision for their baby. "Why do we take blood pressure medications? Why not wait for a heart attack? Or until you have stroke symptoms to take medication? Everything? From our perspective, it's similar, "stated.
ABC News tweeted that Texas abortion law means a woman has to continue the pregnancy despite a fatal anomaly. You can see below:
Beaton never considered abortion before this pregnancy. She now believes abortions should be allowed in cases like hers and for women with other health conditions to receive care.
"I'm personally not for it is a way of birth control. I believe there are certain instances where I deem it necessary," she said. "Never in a million years would I expect or believe that we will be going through what we're going through now."
If you liked reading this article, follow us on our website, kerrvillebreakingnews.com, for more updates.