The Texas Senate on Monday gave final approval to a $308 billion spending plan for the next two years, sending budget leaders into high-stakes negotiations with their peers in the House over property taxes and other divisive issues — with just weeks to go before the legislative session ends.
Senators voted 31-0 to spend $141.2 billion in general revenue on major investments in property tax cuts, juvenile justice, mental health, higher education, state parks, historical sites and pay raises for teachers and state workers.
State Rep. Joan Huffman, R-Houston, chair of the Senate Finance Committee, which directed the budget-writing process for the chamber, said "smart fiscal policy" over the last several sessions allowed budget writers to make historic investments thanks to an unprecedented surplus in state coffers. Comptroller Glenn Hegar has said the surplus is from a record amount of sales tax and oil and gas taxes taken from Texans for the past two years.
"This is a once-in-a-generation opportunity to address long-standing needs, pay down debts, make strategic investments in infrastructure and historic sites and, most importantly, give money back to taxpayers," Huffman said.
Democrats said they were glad that the plan includes more money for mental health and large investments in water projects, rural health and other priority areas they said would help tens of millions of Texans.
Some said they were disappointed the bill left out an expansion of Medicaid, higher raises for teachers and more money for education, plus raises for retired state workers — a group left out of both budget bills.
"I look forward to being more successful in addressing more priorities" in budget negotiations, said state Sen. Judith Zaffirini, D-Laredo.
During floor debate over their budget plan, senators quickly debated a rider in the budget bill that bans funding from universities that use diversity, equity and inclusion practices in their hiring processes.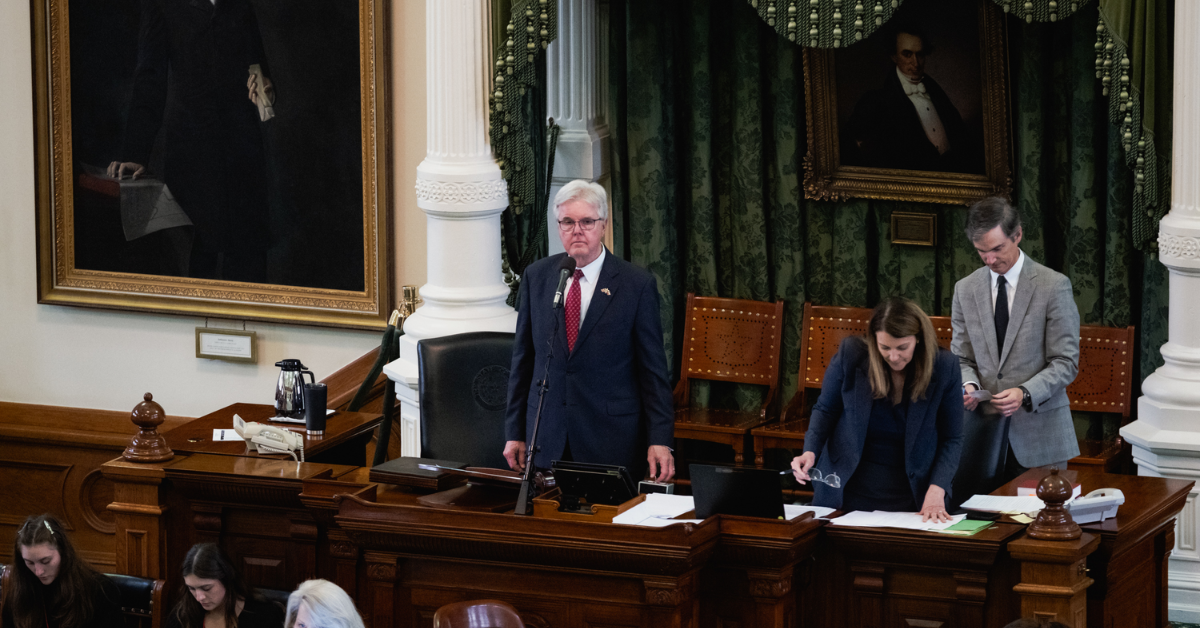 State Sen. Royce West, D-Dallas, another finance committee member that spent weeks vetting the plan, tried to slice out the anti-DEI language in the 965-page budget bill but failed on a 19-12 vote along partisan lines.
West said many of the grant money that come to universities stipulate that the institutions have DEI plans in place. In Texas, Senate Passes Two School Choice Bills Check Out.
"I don't think we've thought through how this impacts institutions of higher education or health institutions in relation to their research dollars," West said.
Unlike the raucous atmosphere and marathon debate that usually characterize the budget debate in the 150-member House, the one-hour discussion in the more staid upper house on Monday was subdued and relatively brief. Only West's DEI amendment was discussed. No other floor changes were offered. Monday's action comes just over a week after the Texas House approved a slightly more pared-down budget with $136.9 billion in general income spending, at a time when lawmakers have a historic $32.7 billion surplus this session.
Neither chamber's plan spends the entirety of the surplus, nor do they bust constitutional spending limits, budget leaders said. The two versions are in agreement on several issues, including funding more mental health services, backing border enforcement programs, addressing prison conditions and investing billions of new money in public schools and pay raises.
But a roughly $5 billion difference in state tax dollars is being spent between the two plans. Several areas of conflict are expected to drive the closed-door talks when members of both chambers meet in conference committee to hammer out a compromise.
The two chambers have also passed emergency spending bills to plug budget shortfalls and bump up funding during the current biennium, adding billions of dollars more to mental health, state employee pay raises and other projects. Those bills will also be negotiated in conference, in particular a Senate promise to direct $3.9 billion to pay off some of the costs pushed onto customers because of high prices for gas or electricity.
The Senate Plan
Senators on Monday approved $5 billion in additional money for schools that would pay for teacher pay raises and other educational programs, including costs involved with offering parents private school subsidies.
They also greenlit $3.7 billion for cost-of-living adjustments for retired teachers, $650 million to improve security at schools and $650 million to revamp community college spending.
Together with the emergency spending bill, senators have approved nearly $1.3 billion for school security, a reaction to the increasing pressure on lawmakers to protect children from school shooters. Nearly a year ago, 19 children and two teachers were shot to death in an attack on Robb Elementary School in Uvalde, the worst school shooting in Texas history.
"We have a comprehensive approach to school safety that we're addressing," said state Rep. Brandon Creighton, R-Conroe, chair of the Senate Committee on Education. "When the plane has landed at the end of this session, it's going to be a model for this nation."
The Senate bill also earmarks $1 billion out of the Economic Stabilization Fund, the state's "rainy day fund," to fund water projects, and a $10 billion commitment to pay for Lt. Gov. Dan Patrick's priority package of bills addressing the stability of the power grid.
It also sets aside $16.5 billion for property tax cuts and $4.6 billion for border security — including more than $1 billion for Republican Gov. Greg Abbott to use on border actions and programs that he picks.
The Senate bill also includes $900 million in new money for mental health care, in addition to $2.3 billion in a separate spending bill. It also suggests $2.3 billion raise base wages for personal care "community attendants" who are paid through the Medicaid program to help patients with chores such as laundry, errands, grooming, eating, and medication.
And it allows $1.8 billion for state employee pay raises and $370 million in new money to address issues at the Texas Juvenile Justice Department, which has been wracked with problems due to understaffing.
The agency is up for its so-called sunset review in the Senate in the coming days, a decennial legislative review in which lawmakers decide how and if a state agency should continue to exist. Senators say they plan to make changes to address several problems that lead to complaints over youth being mistreated. Senators on Monday also passed $500 million to support parks redevelopment, $500 million for broadband development, $500 million for Gulf Coast protection programs and $600 million for port and ship channel funds and projects.
Finding A Compromise
Passing a balanced budget agreed upon by both chambers is the only thing lawmakers are legally required to do each legislative session. This year's assembly adjourns on May 29. But to do that, there are a number of differences to work out — and some appear to be steep hills to climb. You must read the latest news about Texas Senate Approves Public Funds For Private Schools.
The chambers will have to bridge an ideological gulf over whether to allow public school money to be used for private and parochial school tuition for some students, one of the biggest political divides of the session. Both budget proposals have references to a so-called education savings account pushed by Abbott and Patrick that would reserve money usually spent on public schools for some parents who want to move their children out of the struggling public school system.
The Senate has already voted 18-13 to create such a program, with proponents arguing that it would give children in low-performing public school districts a chance to attend expensive, higher-performing schools with costs that might currently be out of their reach. But the House is, as it has been for decades, strongly against the idea, voting 86-52 earlier this month to include in its own budget bill a ban on such vouchers after some rural Republicans teamed up with Democrats to kill the program once again. Opponents say vouchers drain public schools of badly needed money and put tax dollars into institutions that aren't required to accept all students and aren't subject to state special education standards, among other concerns.
Robert tweeted that Texas Senate passed a $308 billion budget plan, kicking off high-stakes negotiations with the House. You can see below:
Texas Senate passes $308 billion budget plan, kicking off high-stakes negotiations with the Househttps://t.co/8Cdgv5aPhj pic.twitter.com/XyfWjHIPaz

— Robert – ☮️☮️☮️ (@robfwtx) April 18, 2023
The two chambers also disagree radically over how to shell out property tax relief long promised by the state's top Republicans, with House and Senate leaders sparring over their main proposals. The House's chief idea to cut taxes is to limit property appraisals for homes and businesses, while the Senate wants to boost the state's homestead exemption and give targeted tax cuts to companies. The House bill also gives for some $2.7 billion more in property tax cuts than the Senate version includes.
Another noticeable difference between the two chambers is the absence of the Senate's $10 billion power grid legislation funding in the Texas House bill. The House bill also doesn't earmark, as the Senate version does, the $1 billion in money for large water infrastructure projects that would be pulled from the state's rainy day fund. And the House hasn't committed to money for expanding broadband in Texas, although it's a priority of House Speaker Dade Phelan and is likely to have chamber support if it appears in a compromise plan.
Meanwhile, the Senate refused to commit $1 billion in funding sought by colleges and universities to allow them to freeze tuition for two years. The House committee version has that money in it, setting up tuition freezes for a showdown in future negotiations. And the House last week passed a resolution that would put to voters whether to fund a $3 billion mental health and brain research center, which the Senate has not signed on to yet.