Are you looking for a cozy house away from the crowds, where no one will hear you scream? This one's for you: a $125,000 three-bedroom home on the 3516 Interstate Highway close to Baird, Texas, is "established and running a haunted house."
The eerie house gained notoriety last week after Steven Dennis, a Bloomberg reporter who frequently tweets about the highs and lows of Zillow, uploaded images from the listing.
At first sight, there isn't much to notice: it's a white, ranch-style cinderblock house with a sizable front yard. Yet inside, you'll find skeletons hanging from the ceiling, entrances built like coffins, and eerie pictures of 19th-century families on the walls.
The Thirteen Vultures
The living room also serves as a funeral parlor with an open casket, wreaths of withered flowers, and a few additional skeletons for the atmosphere. A gurney for late-night procedures is provided in another room.
After you enter the backyard, you will see a small barn, an old school bus, and a feeble hay stand. The skeleton of what appears to be a young Victorian child stands to watch over that final location.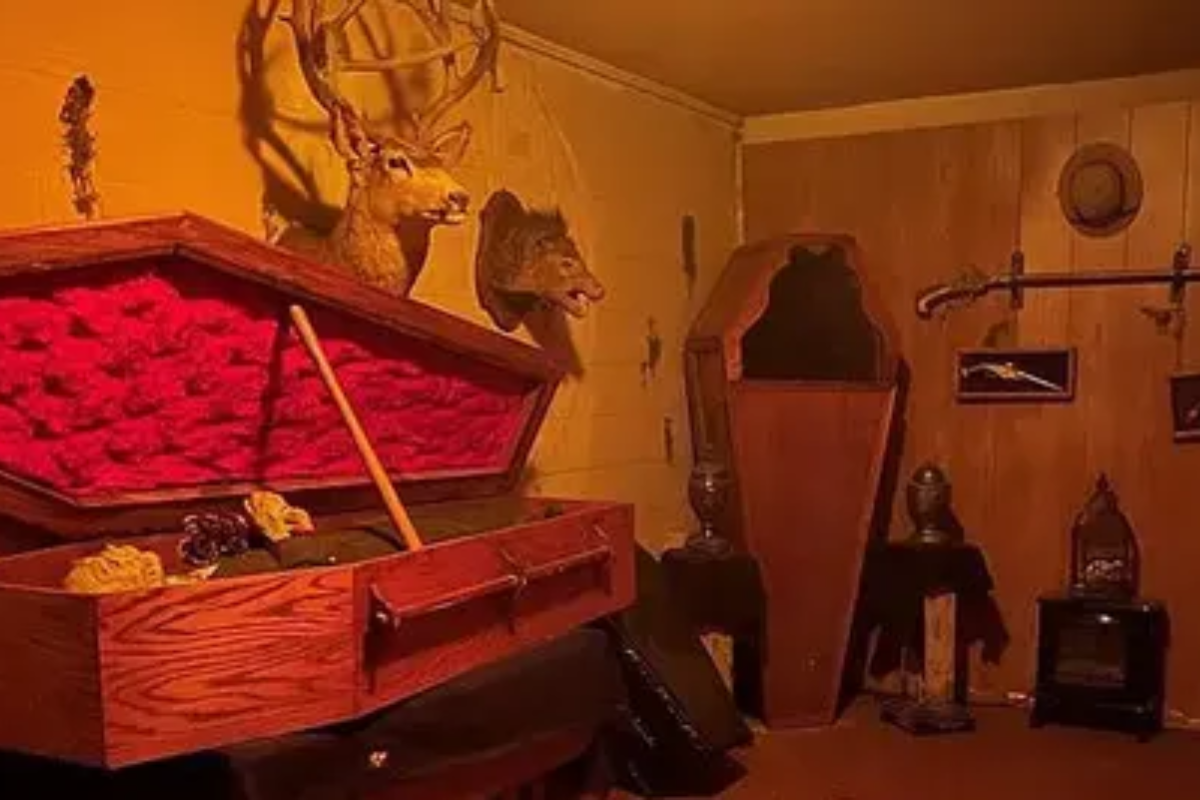 Because it is also known as Thirteen Vultures, a haunting mansion run by Clu Burnham and his wife, the property has this appearance. Although Burnham claimed that the business has stayed consistent since the two purchased it in 2015, they wish to retire.
The website for the attraction claims that Bo and Lester, two brothers, originally owned it. Lester, obsessed with death and became the town's funeral director, worked as a butcher while Bo was a meat cutter. Customers would complain about "strange-tasting steaks and weird cuts of meat purchased at Bo's shop," as you would probably predict. The grounds are now haunted by the ghosts of all the cannibalized bodies.
Also, check some recent news:
It's a story befitting of a horror movie. Burnham, though, said that the haunting was more subdued in reality. He said we'd had some images with orbs, and other individuals claimed to feel a presence in the house.
The Burnhams first encountered Tina Irias, the real estate agent in charge of the listing, while trying to sell their last home. They let Irias know that they "liked Halloween" and that decorations were to be expected.
Irias admitted I entered thinking, OK, some pumpkins. They weren't pumpkins. They had a headless doll, a Chucky doll, and a skeleton in the bathtub. Before the photographer arrived to take viewing photographs, she urged the couple to pack up the props. No, they didn't.
ERIC tweeted that Portugal haunted house. You can see below:
Would you stay the night in this Portugal haunted house? 🤔 pic.twitter.com/95w2az5gDw

— ⚜️ERIC⚜️ (@ERIC_1A) March 3, 2023
Irias, who abhors haunted houses, embraced the style this time. "So if you can't beat 'em, join 'em," she continued as she wrote the listing description. Irias has received offers even though the house has not yet been sold. Irias said, On the tour, one of the buyers' agents said she had an excellent feeling regarding haunted houses and didn't feel freaked out.
While homeowners in four states have the right to know whether a house is haunted, Texas sellers are not legally required to disclose this. An owner who revealed her home's paranormal activity in magazine articles was deemed to have a duty to disclose the poltergeist to the home's eventual buyer in a well-known 1991 New York appellate case. The court ruled that "as a matter of law, the house is haunted."