The criminal charges brought against former President Donald Trump make him the first sitting or former president to ever face such allegations.
He was charged with 34 counts of the criminal offense of fabricating company records, but he pleaded not guilty today. The indictment, which was released on Tuesday, provides specifics of an alleged years-long scheme to conceal harmful information and illegal activity from voters in advance of the presidential election in 2016.
As he entered a courthouse in Manhattan, Trump sported a solemn expression.
"So he's not under arrest in the way people expect, in handcuffs and doing a perp walk, but he had surrendered himself the court," said Benson Varghese, a criminal defense attorney in Fort Worth.
Paid By Trump's Attorneys
During the hour-long hearing, television cameras were not permitted inside. It was the first time that Trump had the opportunity to hear all of the allegations made against him. He is suspected of being the mastermind of a plot to buy and bury damaging material about himself in an effort to sway the outcome of the election.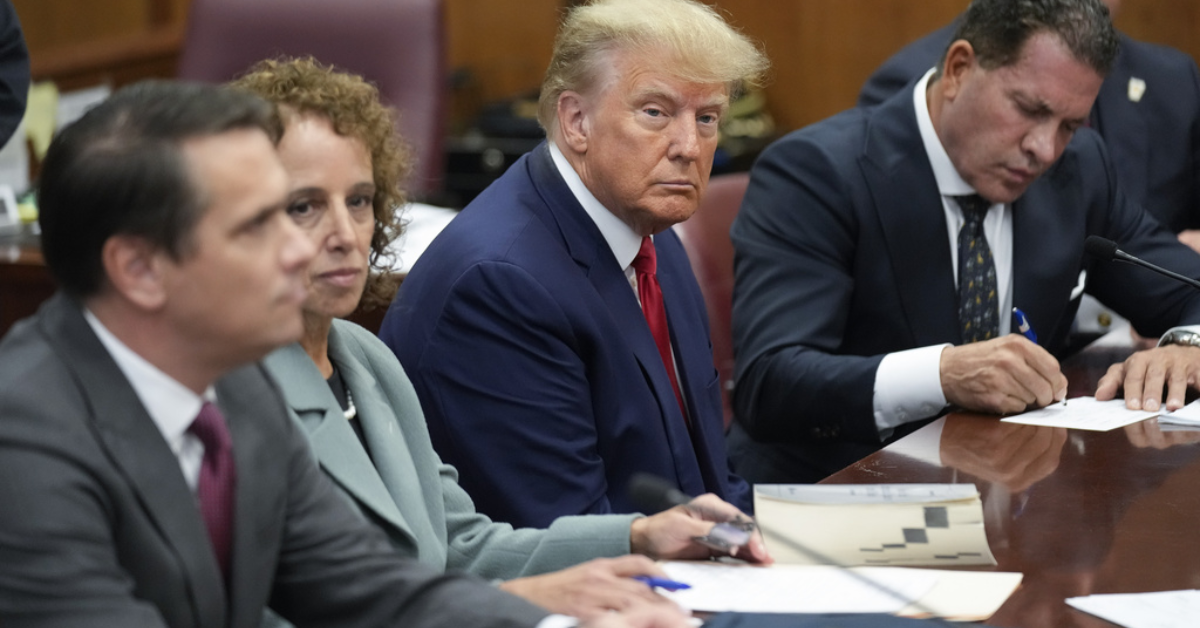 An adult film star and a former resident of North Texas, Stormy Daniels, is named as a recipient of one of the three payments that are detailed in the indictment as having been paid by Trump's attorneys to cover up embarrassing stories.
Before the next in-person hearing, which is slated to take place on December 4, the attorneys will most certainly file a variety of pre-trial motions. There are so many settlements in Texas this is one of the Tech Settles With Former Coach.
"Motions to dismiss, motions to change venue – there's a number that could pop up," said Eric Cedillo, an attorney and law professor at SMU. "They may maintain a new judge is needed because he's heard a number of cases against The Trump Organization."
CNN tweeted that the Arraignment of Donald Trump begins today at 12 p.m. ET on CNN. You can see below:
After the arraignment had concluded, Trump was given his freedom and immediately boarded a plane to return to Florida. It is possible that it will be at least another year before the matter is brought to trial.
"Certainly we don't expect either side to back down," Varghese said. "The DA's spent a lot of time putting this case together. The president has already said he's going to fight this at every possible turn. So it's going to be a long process, a drawn out process."
Trump has stated that he will keep campaigning even while the legal process is ongoing. It is anticipated that he will utilize the allegations that have been made against him in order to garner support among Republican voters in his candidacy for the White House.
"The U.S. Constitution doesn't say anything about being charged with or convicted of a felony, so there's no legal prohibition that would keep him from running," said Varghese.
His campaign has already sent out an email promoting a bogus photograph of Donald Trump on a t-shirt with the slogan "Not Guilty," which is available for purchase for a contribution of $47. On Tuesday evening, President Trump is going to give a speech to a crowd of supporters at his Mar-a-Lago estate. You can check the Texas house measure revamps Economic Development Tool.
If you liked reading this article, follow us on our website, kerrvillebreakingnews.com, for more updates.