Thousands of Texans from the busy Dallas-Fort Worth area regularly cross the Red River to gamble in opulent tribal casinos designed to resemble Las Vegas, to unwind at cabins, or to swim and ski in the numerous lakes that dot southern Oklahoma. They might soon travel further north for another attraction: recreational marijuana.
On Tuesday, Oklahomans will decide whether or not to ratify a ballot initiative that would make it legal for people 21 and older to consume the plant. Proponents of the business think that an inflow of Texas users will benefit a market saturated because the conservative state already has one of the most robust medicinal marijuana programmes in the country.
"There are thousands and thousands of Texans who are increasingly coming to Oklahoma as a tourist destination," said Ryan Kiesel, a former state lawmaker and one of the organizers of State Question 820. "I want to be able to sell legal, regulated and taxed marijuana to those Texans over the age of 21, and take their tax dollars and invest them in Oklahoma schools and Oklahoma health care."
An economic impact analysis sponsored by the cannabis industry predicts a $1.8 billion increase in recreational sales and $434 million in excise tax income from 2024 to 2028 in Oklahoma if the measure succeeds. The analysis suggests Texas would have the most out-of-state users, followed by Arkansas and Kansas.
Oklahoma has one of the nation's most liberal medicinal marijuana regimes, with 10% of adults licenced. Oklahoma offers two-year licences, no list of qualifying medical conditions, and online doctor recommendations. After a delay in validating signatures, Republican Gov. Kevin Stitt called for a special election for SQ 820.
Oklahoma's low barrier to entry led to thousands of licensed growers, processors, and dispensary operators fighting for a limited number of patients, industry insiders say. Many dispensaries are closing as marijuana costs decrease due to inflation. A cannabis sales website lists thousands of Oklahoma grow businesses and shops.
"They allowed for a free-market cannabis industry, and that's what everyone wanted, but now we need more customers," said Chip Baker, a grower who also runs a marijuana garden supply shop in Oklahoma City. "There needs to be an influx of people here to buy this product. It's just simple math."
Kevin Pattah, a Michigan native who moved to Oklahoma to work in cannabis, owns six Mango Cannabis retail shops. In 2019, 1-gram marijuana concentrate cartridges cost $60-$70. Now they cost $20. Marijuana flower and other prices have fallen.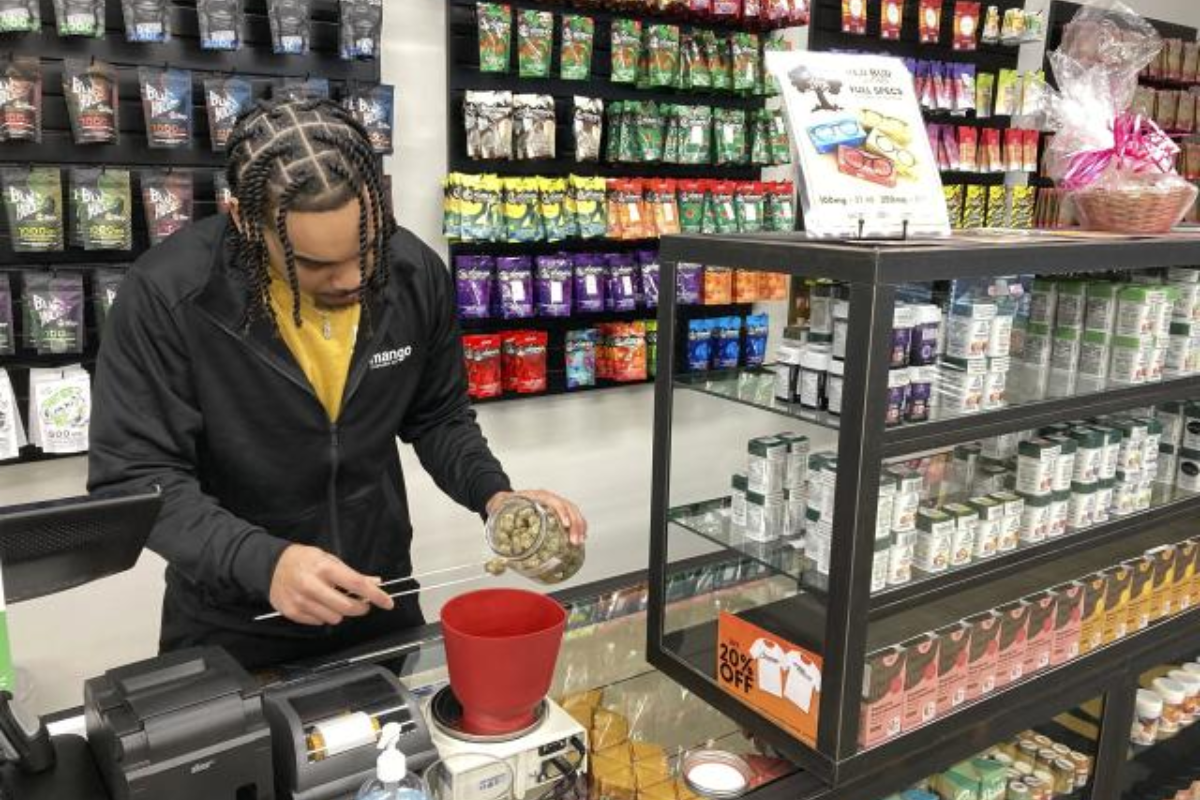 "There's so much product on the market, and there's only so much demand. It hurts everyone," said Pattah, whose dispensary features a prominent digital screen with a countdown to Tuesday's vote. "We've felt the heat as well.
Pattah said Michigan medical operators, especially those near Ohio and Indiana, benefited greatly from authorized sales in 2018. Oklahoma's cannabis business wants recreational sales, but the church, law enforcement, and prosecutors led by former Republican Gov. Frank Keating, an ex-FBI agent, oppose it. Gov. Kevin Stitt and most Oklahoma Senate Republicans also oppose.
Opponents point to a rise in Oklahoma marijuana exports, illicit market sales, and the execution-style murders of four Chinese nationals at a rural Oklahoma marijuana farm.
"SQ 820 throws a match into the middle of what already is a powder keg in rural Oklahoma," said Logan County Sheriff Damon Devereaux, president of the Oklahoma Sheriffs' Association.
Todd Harrison tweeted Pot vote has Oklahoma hungry to rake in green from Texas. You can see below.
Pot vote has Oklahoma hungry to rake in green from Texas

Oklahoma voters are deciding whether to legalize marijuana sales for those 21 and older#yeson820 #sq820 #Oklahoma 🇺🇸 #Cannabis 🌿 https://t.co/7nzazCsjDD pic.twitter.com/gwUHd2vV8V

— Todd Harrison (@todd_harrison) March 4, 2023
Legal marijuana doesn't worry all law enforcement. Sheriff Ray Sappington of Cooke County, Texas, which borders Oklahoma and includes I-35, said that while his officers may arrest more Oklahomans for carrying marijuana into Texas, it's not his main focus.
"Our issues are not marijuana, to be honest with you," said Sappington, who said most people caught with less than 2 ounces of cannabis are issued a citation and released. "Fentanyl is so deadly, and we're facing that all across the nation. That's the battle. It's not marijuana."
As Republican Gov. Greg Abbott begins a fourth term, marijuana legalization in Texas appears unlikely. Texas marijuana supporters have turned to ballot measures in several communities. Five Texas cities passed marijuana decriminalization referendums in November. One was Denton, near Oklahoma.
Alos like some news here:
Oklahoma would become the 22nd state to legalize cannabis and the most conservative after Arkansas, North Dakota, and South Dakota failed last year. Oklahoma's plan would allow 21-year-olds to buy and possess 1 ounce of marijuana, concentrates, and marijuana-infused items. Grow 12 marijuana plants legally. Recreational sales would incur a 15% excise tax. The excise tax would pay local governments, courts, public schools, substance addiction treatment, and the state's general revenue pool.