Texas lawmakers were forewarned not to discriminate against Chinese Americans and immigrants in their own statewide social media ban legislation by U.S. Rep. Michael McCaul, one of the most prominent China hawks in Congress and the man driving the effort to restrict TikTok nationwide.
Bills were submitted by McCaul and Texas House members to prevent what are believed to be security concerns from Chinese actors in the nation via well-known social media apps like TikTok, which is owned by a Chinese corporation.
In accordance with McCaul's proposed legislation, the DATA Act, the administration would have to ascertain whether TikTok or its Beijing-based parent firm, ByteDance, have ever sent sensitive data to the Chinese government and, if so, would have to ban the app from the country.
Focused On Matters Of National Security
Rep. Jared Patterson, R-Frisco, sponsored a bill in the Texas Legislature that would completely forbid apps owned by firms with headquarters in a variety of nations, including China, Russia, Iran, and North Korea. Asian American organizations criticized the law as being overly broad and claimed it would close numerous channels of communication between immigrants and their family in China.
McCaul, who urged legislators to keep their bills narrowly focused on matters of national security and avoid passing rules that would adversely affect Chinese Americans and other immigrants, seems to share this worry.
"I've urged the state Legislature to be targeted in their approach, not a swath that would catch people that are just fleeing oppression," McCaul said in an interview with The Texas Tribune. "It's got to be very careful not to go too far with that and discriminate against, you know, people that are fleeing oppression versus those that are operating under espionage purposes."
The House Foreign Affairs Committee chairman, McCaul, claimed to share this opinion about state legislation prohibiting Chinese nationals from owning land. Earlier this year, Gov. Greg Abbott stated his support for prohibiting land sales to certain Chinese nationals, which Asian American groups claimed might lead to discrimination in the housing market. "Again, I would make it targeted towards CCP-owned-and-operated firms," McCaul said of the legitimate security issue raised by land purchases made by Chinese government actors near military facilities.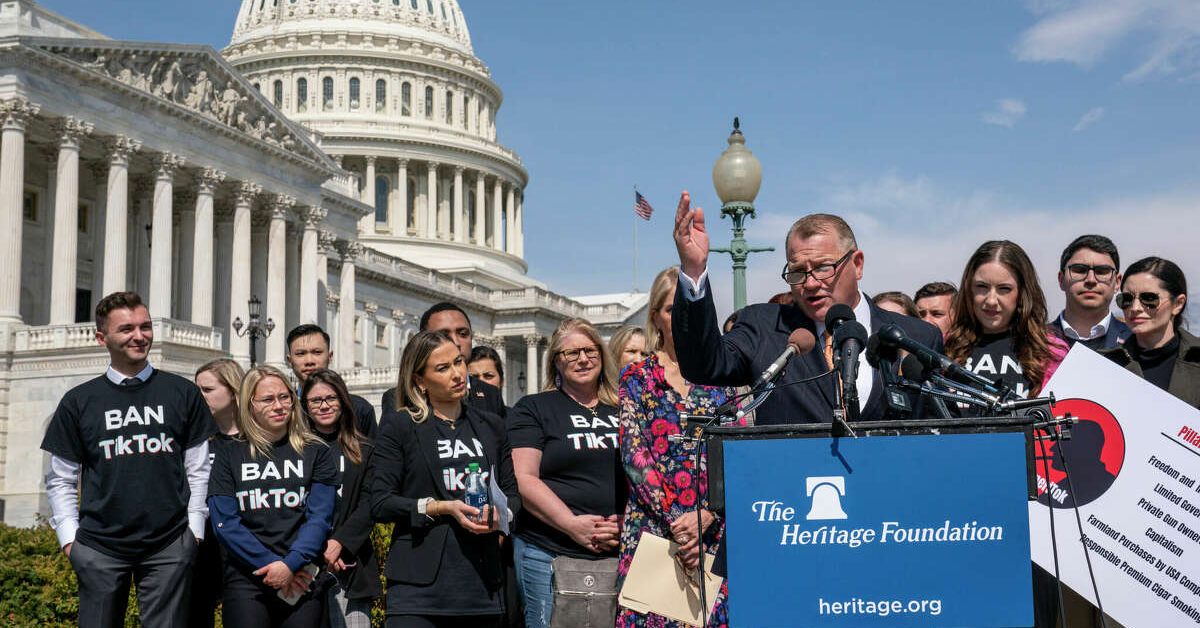 As the state laws are still moving through the legislative process, the lawmaker abstained from passing any judgment on them explicitly. Patterson's office did not immediately answer an inquiry for comment.
During a contentious appearance with the US House Energy and Commerce Committee last month, TikTok CEO Shou Zi Chew categorically rejected any data sharing with Beijing. According to Chew, all data storage is currently being moved to the U.S. as part of a "Project Texas" strategy to keep it out of the hands of the Chinese authorities.
The First Amendment, small business owners, and influencers who claim the app has opened doors for them that would otherwise be out of their reach, all oppose efforts to outlaw TikTok. The corporation has also engaged in a vigorous lobbying campaign to maintain its U.S. business.
Chew stated in a letter to Senate Republicans last year that "We have not supplied U.S. user data to the CCP, and we would not if requested." Yet, despite Chew's assurances, members of Congress on both sides of the aisle as well as the White House expressed alarm about the fact that ByteDance, the parent firm of TikTok, is governed by Chinese law.
"If you look at the Chinese Communist Party, and just their history collecting data, even on their own citizens, people really need to be concerned," said U.S. Rep. Marc Veasey, D-Fort Worth, in an interview with the Tribune. "If this is going to be the predominant and most popular platform for our kids, we need to be concerned because I do think that the Chinese government would ultimately want to use it for nefarious reasons."
After finishing a bipartisan trip to East Asia to investigate China's threat to American partners, McCaul voiced his worries on Tuesday. The main democratic allies in the area, Taiwan, South Korea, and Japan, were visited during the trip. Everyone must have come to know that Tiktok has gone banned and you might want to check that related news also about Texas School Choice Faces An Uphill Battle
Beijing, which still considers the island a vital component of the People's Republic of China, found the visit to Taiwan especially provocative. But, McCaul argued that it was crucial to assist Taiwan at a time when Chinese President Xi Jinping is making it obvious that he wants to reclaim the island.
NEXTA tweeted that The House Foreign Affairs Committee of Congress approved a bill to ban TikTok in the United States. You can check below:
❗️TikTok could be banned in the U.S.

The House Foreign Affairs Committee of Congress approved a bill to ban TikTok in the United States.

The social network is suspected of spying for China. The bill has been sent to the House of Representatives for a general vote. pic.twitter.com/3OA84wICIc

— NEXTA (@nexta_tv) March 1, 2023
Deterring Chinese incursions, according to McCaul, is "perhaps the biggest unifying issue in the Congress." Democratic member of the House Foreign Affairs Committee from San Antonio, U.S. Rep. Joaquin Castro, sponsored legislation strengthening ties with Southeast Asia during this congressional session in an apparent effort to counterbalance Chinese influence in the region. Last month, it was decisively approved by both political parties in the House.
The continued funding of Ukraine in its war against Russia, which China views as a litmus test on the US willingness to support Taiwan in the event of an invasion, and export controls to prevent Chinese "malign actors" from stealing American technology are two other issues McCaul said Congress should concentrate on.