After an edited version of the argument broke out on social media earlier this week, the Texas Department of Public Safety on Thursday released two videos showing an altercation between one of its troopers and a visibly distraught mother of a student who died in last year's mass sh00ting at Robb Elementary School.
Following police waiting 77 minutes to approach the sh00ter who killed 19 students and two teachers on May 24, 2022, the incident, which took place on Wednesday during a student-led walkout in protest of gun violence, demonstrates the community's growing mistrust of the police.
Law enforcement authorities expressed hope that by making the footage publicly available, the added context and transparency could help heal rifts between the police and the community they are tasked with defending. Ana Rodriguez, whose 10-year-old daughter Maite was one of those slain in the Robb Elementary School sh00ting spree, can be seen attempting to enter the school to get her son in a video posted late on Wednesday.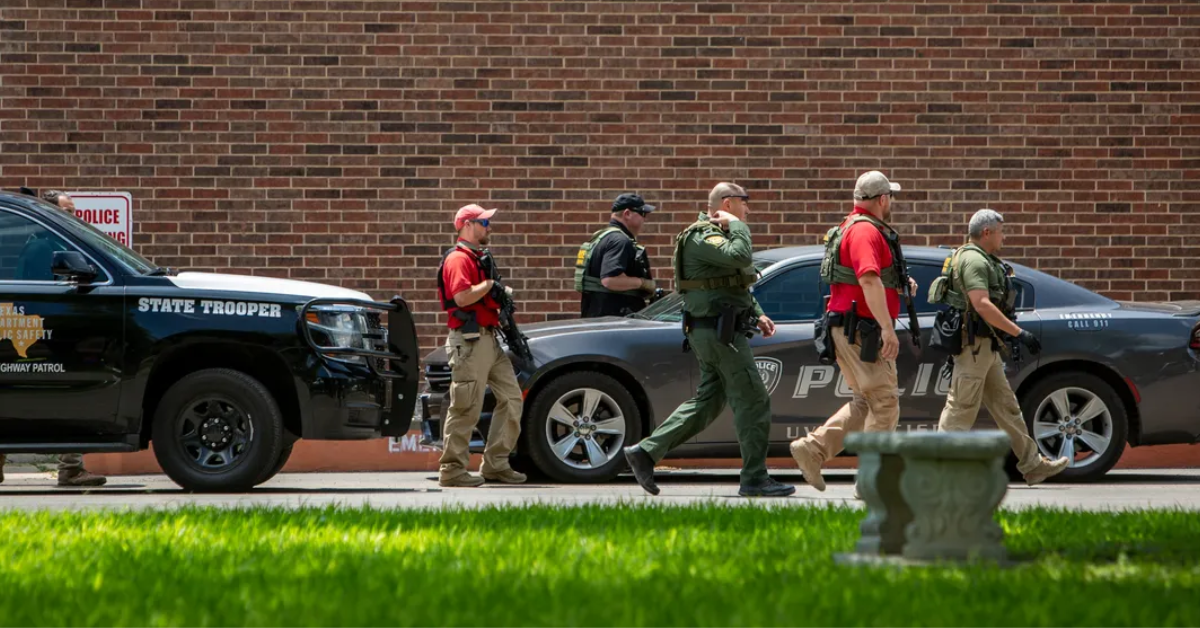 Rodriguez enters the facility after a student inside of it opens the door, but a Texas state trooper confronts her and violently ejects her from the building. Rodriguez replies to the trooper, "When your daughter is murdered on school property, then you talk to me, sir."
The video spread swiftly on social media, largely garnering support for Rodriguez and stirring up fury for the trooper. Roland Gutierrez, a state senator, criticized the trooper's actions and demanded an investigation.
"I am demanding a full investigation of this incident, with bodycam footage to be released immediately," Gutierrez tweeted. "This is a disgrace and is no way to treat a grieving family."
The Texas Department of Public Safety had complied with Gutierrez's request by Thursday afternoon. A department representative said they were investigating into the incident after officials released an 11-minute film from the trooper's body-worn camera and a seven-minute video from a hallway security camera.
The two films capture the minutes before the physical confrontation. Although the officer's camera initially does not record any audio of the exchange, Rodriguez is first seen yelling at the trooper in the school's hallway. Rodriguez first cooperated with the trooper's orders to check in with a secretary as per school routine, according to a statement obtained by ABC News, but she later "attempted to make her way into the auditorium and began yelling loudly, yelling 'Walk-out' many times."
Alicia Johnson tweeted that Texas DPS releases a video of an altercation with the Uvalde victim's mother. You can see below:
The officer then put his hand on Rodriguez's back and escorted her to an exit, as seen on the body-worn video. Then, from outside, Rodriguez can be heard pounding on the door, seemingly trying to reenter. Rodriguez's door is opened by a parent who is also waiting for their child, but when the trooper returns to the entrance, he grabs Rodriguez by the arms and shoulders and drags her outside.
After a brief delay, the trooper returned to the doorway and let Rodriguez inside a nearby office. There, Rodriguez once more showed the secretary her identification and asked to pick up her kid. The trooper approached her and asked if he could speak with her as she waited for her son.
"No, you may not," Rodriguez replied. "You wouldn't understand. Was your daughter shot up? No she was not f—ing shot! So this means something to me. It means something to me for my son to be able to protest."
A representative for the Uvalde School District said in a statement that the larger walk-out was an unsafe demonstration but that the district did not reply to requests for comment on the incident. You can read some recent news related to FMS Teacher.
On Wednesday, hundreds of students from across the district took part in a walk-out. They marched to a memorial in the town square of Uvalde and waited there for 77 minutes, the time it took police to capture the attacker during the attack last May.
If you liked reading this article, follow us on our website, kerrvillebreakingnews.com, for more updates.