Following a fire that started on Monday at its Texas City refinery, Marathon Petroleum has announced one employee's de@th.
"We are deeply saddened to report that a Marathon employee has passed away as a result of the fire today at Marathon Petroleum's Galveston Bay refinery," a company statement read. "We extend our deepest sympathies to our employee's family, friends and co-workers, and our thoughts are with them as we all mourn his passing. The safety of our workers and the community is our top priority, and a full investigation will be conducted to determine the cause of the incident."
The worker's identity was withheld, and it wasn't immediately clear if any other persons had been hurt. The statement was obtained by ABC13 shortly after 2:30 p.m., two hours after Texas City police declared the fire to be contained and under control.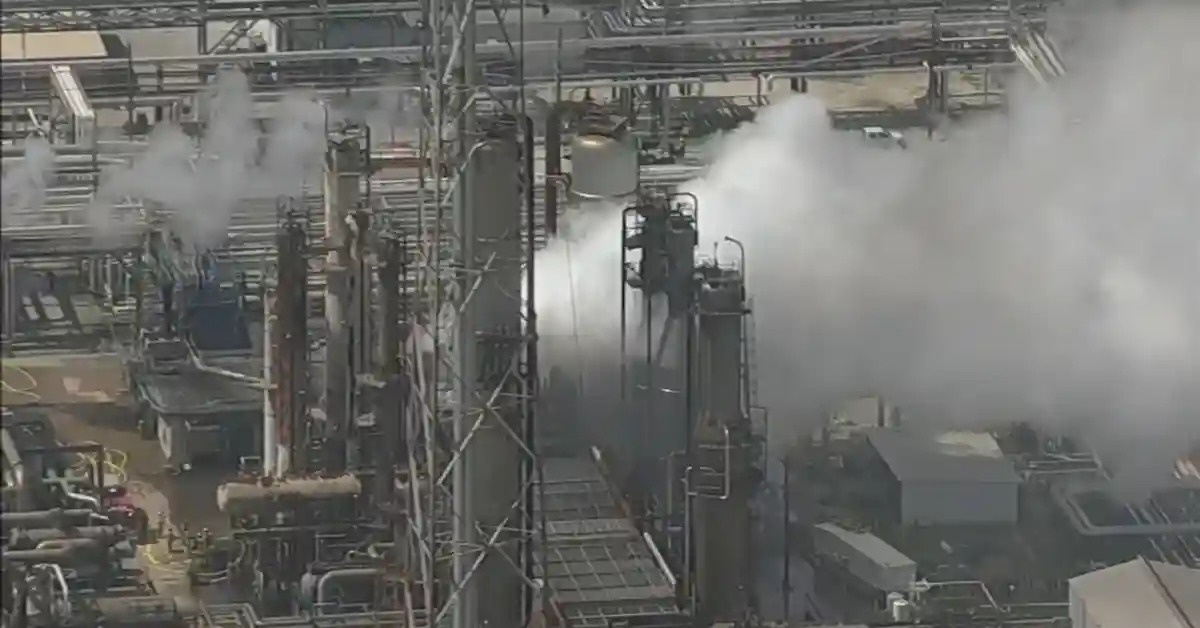 Marathon claims that the fire started at about 9:30 a.m. What exactly started the flames was unknown. The Texas City police also stated that the community is not in danger and that there is no need for shelter in place. Marathon stated that precautionary air monitoring is being done.
Locals within a mile of the factory expressed dissatisfaction with the lack of communication from the city regarding what occurred.
The Texas City Emergency Management Department has a free text alert system that is advertised on its website as being able to provide those who sign up with "critical information quickly in a variety of situations."
Irene Reyes, Chris Fajkus, and Mildred Barton have all requested to receive emergency alert messages. All three claimed to have missed any notification.
Barton claimed that although she heard an alarm go off at the factory this morning, she did not give it any further thought. She claimed that it went off occasionally.
Later, she received a call from her mother informing her of a plant fire.
"I went to ABC13, and the first thing on y'all's page was there was a fire there," Barton explained. "I just think it's also kind of wrong because I did sign up for the alerts from the system to alert us when there is something going on at the plant, and no alerts. Nothing."
What would have happened if she had to leave her house? she wondered.
"(Is the city) going to wait till the last minute to tell us, and then we can't leave because it blows up or something?" Barton asked.
Reyes claimed that a friend informed her of the fire through a Facebook post. She claims that if she had known, she would have switched off her air conditioning, which was on all day.
"You don't know which way the wind is blowing if whatever it is that is leaking is coming straight directly," Reyes said. "We are so close. It's very important."
Here you can see the latest news, you can check at below:
Fajkus first heard about the factory fire from a team from ABC13.
"I decided to live here with my family," Fajkus said. "I expect the local government to try to take care of us the best way that they can, and it seems like they're failing by not doing what they told us they would do."
He asserted that if he had realized how quickly things may change during a refinery fire, he might have prepared a bag in case he needed to evacuate.
"Explosions can happen in the middle of nowhere, and it can get pretty dangerous and cause a lot of issues, and I don't want to be around when that does happen," Fajkus said.
The Emergency Management Department in Texas City was contacted by ABC13 to find out why a text was not sent out via the alert system, but they were unable to get through to anyone.
ABV13 Houston tweeted that At least 1 Marathon Petroleum employee d!es in Texas City refinery fire, company says. You can see below:
#BREAKING UPDATE: At least 1 Marathon Petroleum employee dies in Texas City refinery fire, company sayshttps://t.co/CmdhX4EMuA

— ABC13 Houston (@abc13houston) May 15, 2023
Barton questioned the city's claim that a shelter-in-place is unnecessary in a tweet.
"They are making chemicals there, so why wouldn't it affect the air?" Barton questioned. "It's just common sense."
The fire itself affects air quality, according to Dr. Kathleen Garland, a senior lecturer in UH-Clear Lake's environmental management program.
"A plume of combustion products coming off of a chemical fire — to my mind, we start with that risk to the community," Garland explained. "The question is, 'What's in it?' And it can be very hard to determine what that risk is."
She claimed that it usually takes several hours to get someone out to check the community's air quality, and by that time, the particles have usually already moved past.
Just before 11 a.m. on Monday,SkyEye flew over the refinery, where massive flames and a column of black smoke could be seen. The flames were put out by firefighters using water.
Injuries and fatalities were not specifically mentioned in a previous Marathon statement, although it did note that "all employees and contractors are currently being accounted for."
The complete statement, which ABC13 acquired shortly after 11:45 a.m., was as follows:
"Marathon Petroleum crews are responding to a fire at the company's Galveston Bay refinery that began on Monday, May 15, at approximately 9:30 a.m. Central Time. Emergency Responders are on the scene, and all employees and contractors are being accounted for currently. Crews have deployed air monitoring in the community as a precaution. All regulatory notifications have been made."