Kerrville Mayor Judy Eychner got a rude, threatening email on Wednesday that said someone would protest at her house because of something she said at a City Council meeting on Tuesday. Using a private, encrypted email address provided by Proton, a company based in Switzerland, the author wrote:
"You dumb broad, don't ever fucking lie at a council meeting again, or we'll have to peacefully protest at your house until you get the point that we're done messing around."
According to The Kerr Country, The Kerrville Police Department has a copy of the email, but because the email is safe, they can't use it to do a full investigation. When Swiss law was broken, Swiss officials had to use formal tools to get information from Proton.
Eychner said the email was scary and made people in Kerrville think and feel scared. The address of the person who sent the email was "[email protected]."
The email seems to be about what Eychner said in the first few minutes of Tuesday night's meeting. She pushed back on claims about the quality of the city's water, which candidate Barbara Dewell Ferguson had brought up several times. "A lot of false information about our drinking water has been spread," Eychner said.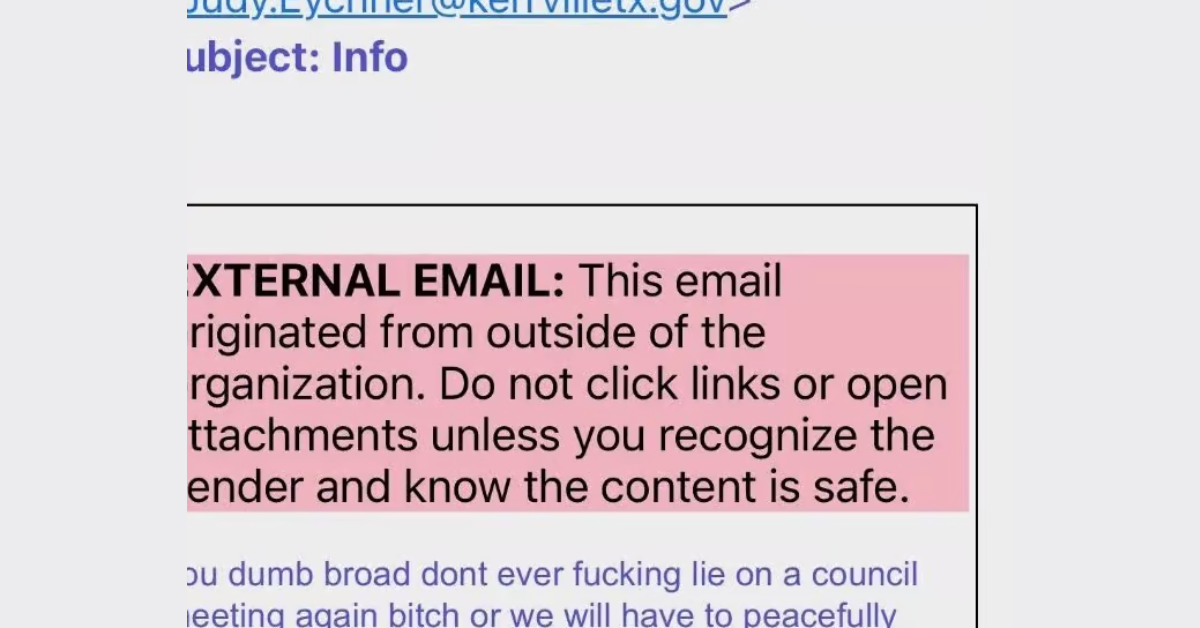 But in her statement, she said Kerrville hadn't had any problems with its drinking water in the past seven years, which isn't exactly true. Over the years, the Texas Commission on Environmental Quality warned Kerrville about high levels of Trihalomethanes (TTHMS), which are a common and sometimes dangerous result of chlorine treatment. We have more Texas news related to North Texas Customer Who Overpaid For Electricity and Gets A Refund.
Public Works Director Stuart Barrons said earlier this year that the city got a ticket in February 2019 and October 2022. Barrons told the council that it was hard to control TTHMS levels when there was a drought, and the Guadalupe River didn't run as much. But the TCEQ still gives the city's water system a "Superior" grade.
At a meeting where the Council rarely worked together and agreed on everything, the letter writer seemed to be upset by the mayor's mistaken statements. It also comes on the same day that the backers of Dewell Ferguson and Governor Roman Garcia paid for a door hanger ad that criticized the City Council for several things, including the long-term drinking water supply. You must check out the recent news about Friendswood Manicure Salon Charged Single Mom About $700 For Toenail Painting.
It's the second time Eychner and other Council members have gotten texts with threats. Mountain Home man said he wouldn't mind if someone used an AK-47 assault gun on the City Council, except for Garcia, so the city had to put up metal detectors at all public meetings at City Hall.