According to Memorial Oaks Chapel in Brenham, Gus Franklin Mutscher, a former Texas House speaker who resigned after being convicted in the Sharpstown scandal, died on Sunday. He was 90. When Mutscher's connection to the Sharpstown bank was investigated, a group of 30 lawmakers known as the "Dirty 30" banded together to target Mutscher and demand his resignation.
The lawmakers were a bipartisan group led by state Rep. Frances "Sissy" Farenthold, D-Corpus Christi. Mutscher's heavy-handed approach to leadership was also criticized by the Dirty 30. The Brenham Democrat was elected to the House for the first time in 1960 and served for six legislative sessions.
Mutscher served on the Legislative Budget Board and the Texas Legislative Council before becoming speaker, as well as chairing the Legislative Redistricting Committee and vice-chairing the Appropriations Committee. Mutscher supported bills that improved air and water quality, expanded services for Texans with intellectual disabilities, and prioritized public and higher education as a member of the Legislature.
A Twitter page shared Gus Mustcher's pic when he was still young. You can see that tweet below
Speaker Gus Mutscher. Photo by Bill Malone. #txlege pic.twitter.com/cJYl3ZN3It

— Texas Capitol History (@TXCapHistory) February 27, 2023
Mutscher was born in William Penn, an unincorporated community in Washington County, which he also represented in the legislature. He attended Blinn Junior College in Brenham on a baseball scholarship after graduating from Brenham High School. He later attended the University of Texas at Austin, where he earned a bachelor's degree in business administration.
You might be interested in:
Gus Mutscher In His Personal Life
According to an obituary from the Memorial Oaks Chapel, when he wasn't in office, he spent much of his time in Washington County working cattle, mending fences, and chasing down escaped bulls. He was a rabid Dallas Cowboys fan who would drive to Irving wearing a "Tom Landry" fedora to watch the games.
Mutscher became a speaker after being elected to his fifth term in the House in 1969. During his second session as speaker in 1971, he became embroiled in what became known as the Sharpstown stock fraud scandal.
Frank Sharp, a Houston banker, had granted profitable stock purchases to state legislators in exchange for legislators passing banking legislation that benefited Sharp and his business. Mutscher was instrumental in shepherding the banking bills through the House.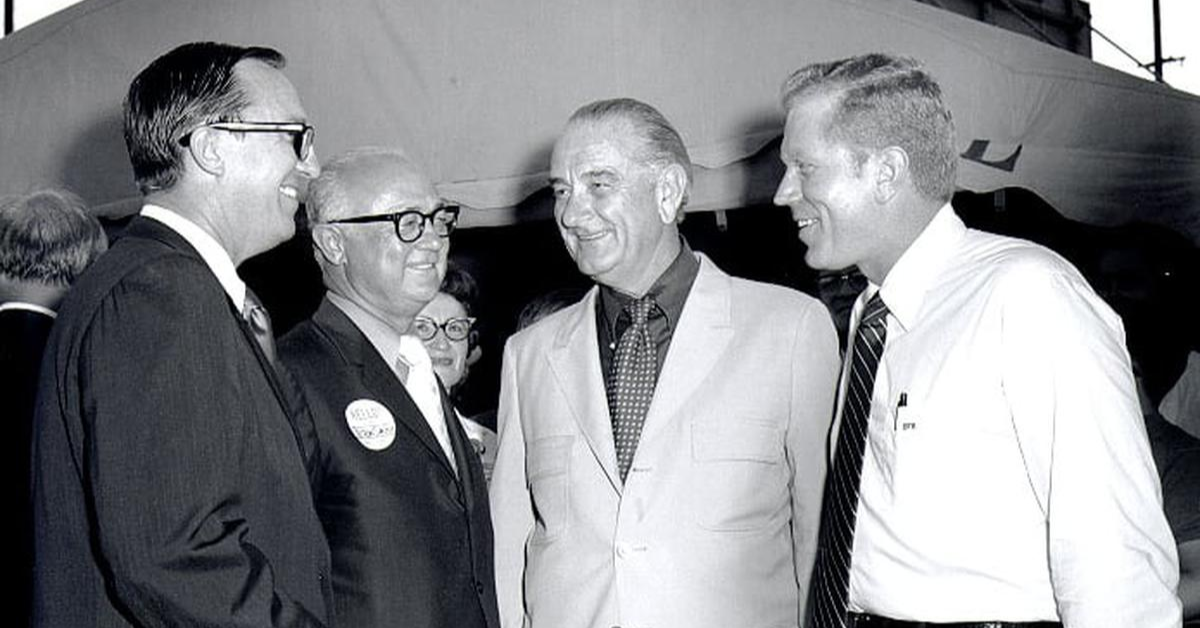 Gus Mutscher, former Texas House speaker, Preston Smith, former governor, Lyndon Baines Johnson, former U.S. president, and Ben Barnes, also a former Texas House speaker, pose on Aug. 17, 1970, in Brenham.
Gus Mutscher, the former Texas House speaker, meets with Preston Smith, former governor, Lyndon Baines Johnson, former President of the United States, and Ben Barnes, also a former Texas House speaker, in 1970.
Image courtesy of the Texas State Library and Archives Commission. Mutscher agreed to resign after a jury found him guilty of conspiring to accept a bribe. He was sentenced to five years probation but was later found not guilty on appeal. As a result of the scandal, he was succeeded as speaker by Rayford Price, who helped usher in changes to the House's operating rules.
You may also like:
As a result of the scandal-inspired reforms, lawmakers now hold open meetings, must disclose campaign finances and are subject to the Public Information Act. The scandal became a means for Republicans and moderate and liberal Democrats to gain more legislative power. Conservative incumbent Democrats were defeated in the aftermath of the scandal and were replaced by less conservative newcomers.
Mutscher returned to politics in 1976, when he was appointed to fill a vacancy as Washington County's county judge. He later became president of the Texas County Judges and Commissioners Association and the National Association of Regional Councils.
If you found this article informative then bookmark our website Kerrvillebreackingnews.com for more such content