Hundreds of LGBTQ Texans and their friends gathered Saturday afternoon to voice their anger and anxiety over a number of proposals that are advancing quickly that target queer people. Chants of "Protect trans kids" reverberated around the Capitol.
The mid-April heat was a perfect match for the rage that many people felt toward Republican politicians who want to restrict LGBTQ rights by prohibiting transgender students from participating in college sports, queer kids from obtaining transition-related healthcare, and other measures.
"Welcome to the resistance," said Ricardo Martinez, CEO of Equality Texas, the LGBTQ advocacy group that spearheaded the march, as he pleaded with demonstrators to use all legal means at their disposal to block the law in the last six weeks of the legislative session.
Chanting demonstrators gathered a few blocks north of the Capitol and marched through drag queens and rainbow banners before assembling on the south steps to hear vehement speeches and provide support. Natalie Kennedy, a resident of Austin who came out on Saturday to support the queer community, said, "Right now, everyone's upset, frustrated, and speechless."
Bills About LGBTQ People Have Already Been Approved
All of Lt. Gov. Dan Patrick's priority bills about LGBTQ people have already been approved by the Texas Senate, including measures that would limit the discussion of LGBTQ people in schools, prevent transgender children from receiving care that is supported by major medical groups, prohibit trans college athletes from playing for teams that reflect their gender identity, and cut funding for public libraries that allow drag queens to read to children.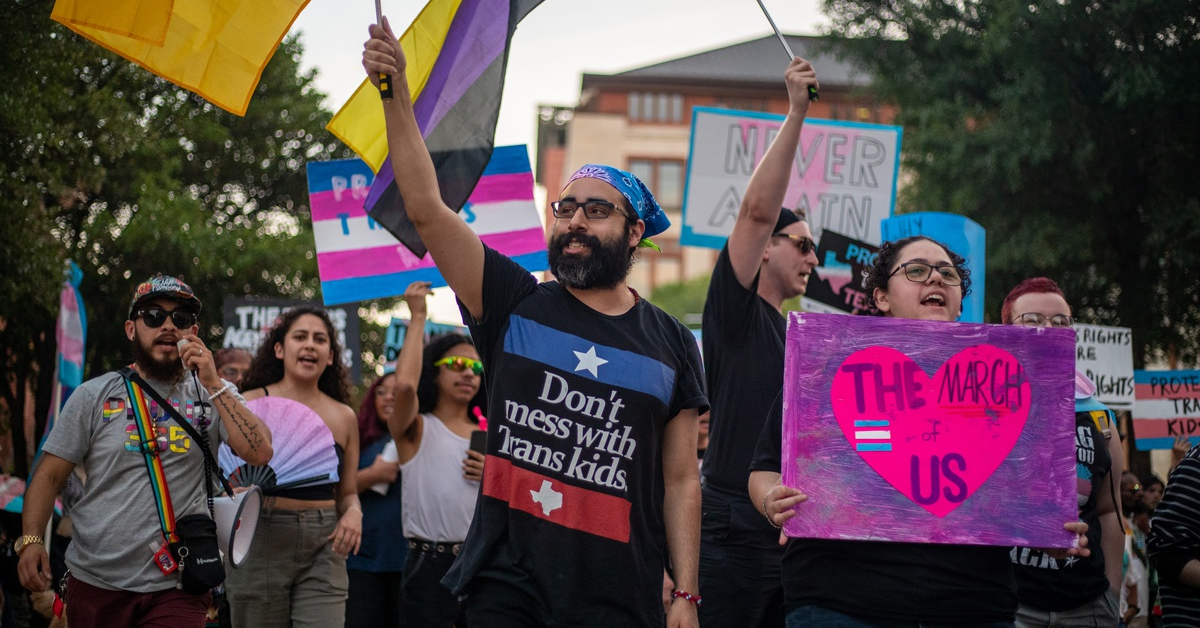 Additionally, there are indications that the House, which has typically acted as a barrier to legislation limiting the rights of LGBTQ Texans, is moving swiftly on some of these bills. New versions of Senate Bill 14 and House Bill 1686, which would prevent trans adolescents from receiving hormone therapy or puberty blockers, were advanced by a House committee on Friday. The new legislation mandates that trans youth already getting those therapies wean themselves off their prescription drugs. Even though teenagers rarely have procedures, the legislation outlaws them.
On Alexander Peden's stomach outside the Capitol were the words "Trans bodies are holy." The struggle to preserve access to hormone therapy and puberty blockers is extremely personal for Peden, 20. When Peden was 15 years old, he began taking testosterone, which, in his words, "absolutely fundamental in saving my life."
Peden claimed that without access to hormones, his family would have had to leave Texas, where they had lived for many years. Peden cautioned that prohibiting hormone therapy and puberty blockers—essential therapies for young people dealing with bullying, exclusion, and suicidal thoughts—would invariably result in needless deaths. Access to hormone medication, according to Peden, who also believes that transition-related surgeries allowed him to finally feel at ease in his body.
He added, "I finally let out a breath I had been holding all my life." Gender-affirming care, according to medical professionals, aims to enhance the mental health of trans adolescents. Compared to their cisgender counterparts, transgender children are much more likely to experience depression and make suicide attempts. In a 2015 analysis, the National Center for Transgender Equality showed that 40 percent of the almost 27,000 transgender respondents had tried suicide, which is nearly nine times the national average.
More than 100 advocacy organizations and churches have denounced bills that aim to limit access to health care and control which drag acts can be staged in front of kids. The legislative packagCUCe has also been condemned by the Democratic chairs of six House caucuses, including the LGBTQ Caucus. Melissa Meyer has overcome the difficulties of being a queer Texan and feels happy to have found a supportive community.
"I know who loves me and who doesn't, and that's a gift," said Meyer. The "disgusting bills" that target trans youth are assaults on the LGBTQ community and ideals that Texans hold dear, according to Meyer. Because of the governor's order to open child abuse investigations against parents who give their children gender-affirming care, families of trans youngsters have already left the state.
Texas Signal tweeted that LGBTQ+ Advocates will meet at the Texas Capitol tomorrow to protest against the onslaught of anti-LGBTQ bills. You can see below:
🚨 LGBTQ+ Advocates will meet at the Texas Capitol tomorrow to protest against the onslaught of anti LGBTQ bills. The rally, named "Fight for our Lives", will take place as bans on transgender healthcare are up for debate this week including a hearing in the House. #txlege pic.twitter.com/pntGfqKJoX

— Texas Signal (@TexasSignal) March 26, 2023
Meyer shook her head and added, "To think our tax dollars are going to target trans kids." Adult transgender person Zo Schirmer expressed her fear about what these initiatives would signify for their future. Schirmer cited initiatives to outlaw transition-related care in numerous other states, such as a recent emergency rule by Missouri's Republican attorney general to limit access to hormone therapy and puberty blockers for children and adults. About to end of this news we can share the latest piece of news about Planned Musical Selections For April 18 Concert In Fredericksburg, Texas.
Schirmer claimed that despite the LGBTQ community's decades-long accomplishments, trans youth still feel as though their rights are being trampled underfoot. The usual refrain The zeal with which lawmakers have pushed anti-LGBTQ legislation this year caused discomfort on Saturday. Peden and others were concerned that if these legislation were passed, Texas would become hostile to queer people. "It quickly became quite awful. And it appears that things will only get worse," Peden remarked.