Kerrville-Schreiner Park, a 517-acre Guadalupe River recreation and camping park is beautiful. State Hwy 173 divides the park into the Hill Side (larger side) and River Side (smaller side on the Guadalupe River). Wildlife includes whitetail and black buck antelope, axis deer, rabbits, foxes, birds, butterflies, and more in our park. Leashed pets are allowed outside but not inside.
Kerrville-Schreiner Park has 10 miles of hiking/biking trails, seasonal canoe/kayak rentals, and Guadalupe River access. All campsites have a picnic table, campfire pit with grill, and maximum occupancy of 8. The rental regulations refund all cleaning deposits.
The daily rate Kerrville-Schreiner Park fee is given below
Daily Rates: $15.00 – $28.00
Payment Methods: MasterCard, VISA
Amphitheater
Kerrville-Schreiner Park's Recreation Hall and Amphitheater are on the riverside. The 220-person Amphitheater hosts our Movies in the Park series and can be rented for your special event.
Butterfly Garden
Kerrville-Schreiner State Park Friends designed and installed the Butterfly Garden in 2000. Deer-proof fencing surrounds the 104′ x 104′ garden. Data is collected on milkweed-flagged mulched paths. The garden became a Monarch Way Station in 2006.
You might be interested in:
Hillside Teepee
For overnight camping, themed birthday parties, and group outings. Kerrville Boy Scout Troop 111 built this 18-foot structure. Rent the Hillside Teepee for your special event.
Mini-Cabins
Rent 23 Hill and River Side Mini-Cabins. Each 12′ X 18′ Mini-Cabin has two sets of bunk beds, a dining table with four chairs, air/heat, a 20 AMP outlet inside, a picnic table outside, and a campfire pit or barbeque grill or combination unit. All Mini-Cabins are near flush toilets and hot showers. No linens. 3:00 p.m. is check-in and 12:00 p.m. is check-out.
Many people go to the park with their family or alone and enjoy some quality time there. Here is a tweet from Bill Dahle with his cat
Got to see my kitty friend Ted today after a nice walk to Kerrville- Schreiner Park and back! What a terrific Thursday! pic.twitter.com/8EVzgz4y1X

— Bill Dahle (@BillDahle) February 23, 2023
Cabin
The hillside Park Cabin is private. It has a small refrigerator, microwave, coffee maker, toaster, limited dishes and silverware, queen-size bed, twin-size bunk bed, pull-out couch with linens, four-piece dining table, color TV with cable, and full bathroom. 3:00 p.m. check-in, 12:00 p.m. check-out.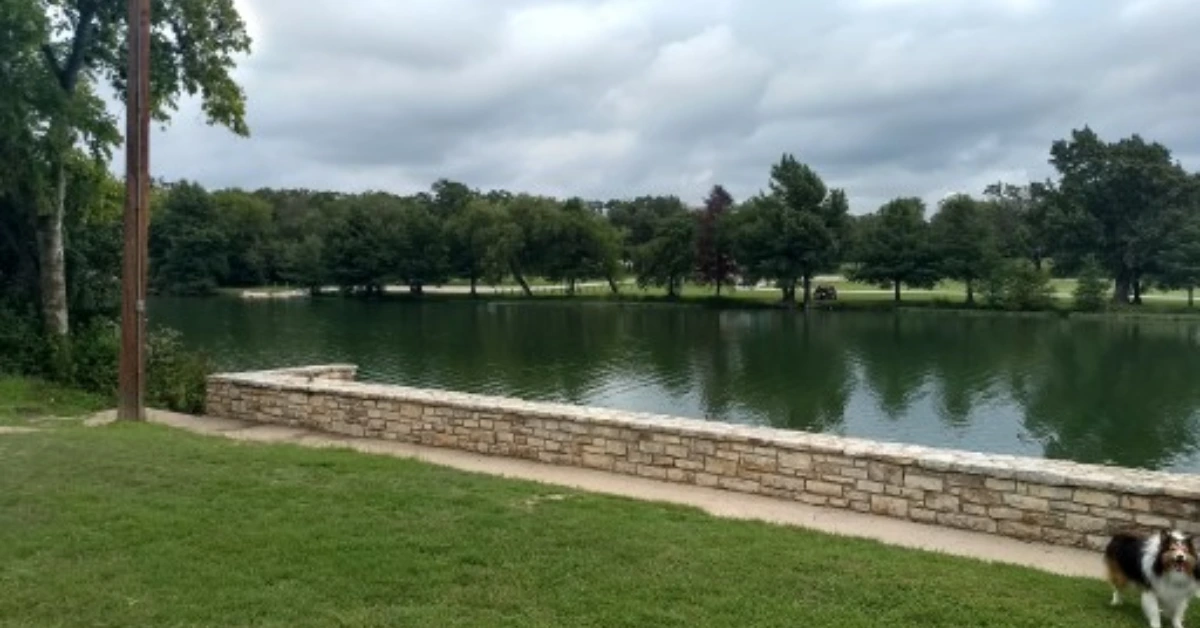 Farmhouse
This private Ranch-Style House is on the park's hillside. It has a full kitchen with refrigerator, microwave, oven, sink, four-piece dining set, color TV with cable, washer/dryer, living room with fireplace, couch, and chairs, three bedrooms that sleep six, and two full bathrooms with showers.
3:00 p.m. is check-in and 12:00 p.m. is check-out.
You may also like:
Bunkhouse
The Bunk House, to the left of the Ranch House, is newly renovated. It sleeps six. The Bunk House is only rented with the Ranch House for overflow.
Gymnasium
Riverside recreation hall. The Recreation Hall has 100 seats and central air/heat. It has indoor restrooms, a kitchen sink with hot water, an electric range cooktop, a full-size oven, a household refrigerator/freezer, a large serving countertop with eleven barstools, two microwave ovens, and a large outdoor grill.
Cafeteria
Hillside park dining hall. A 100-person screened facility without A/C is available for rent. The Dining Hall has a kitchen with a sink and hot water, a household-size refrigerator/freezer, a full-width serving bar, picnic tables, two microwave ovens, and a large outdoor grill. Seven private Mini-Cabins surround the Dining Hall. For more detailed pricing list of Kerrville-Schreiner Park visit kerrvilletx.gov
If you liked reading this article and found this informative then you can bookmark our website kerrvillebreackingnews.com for more such content.